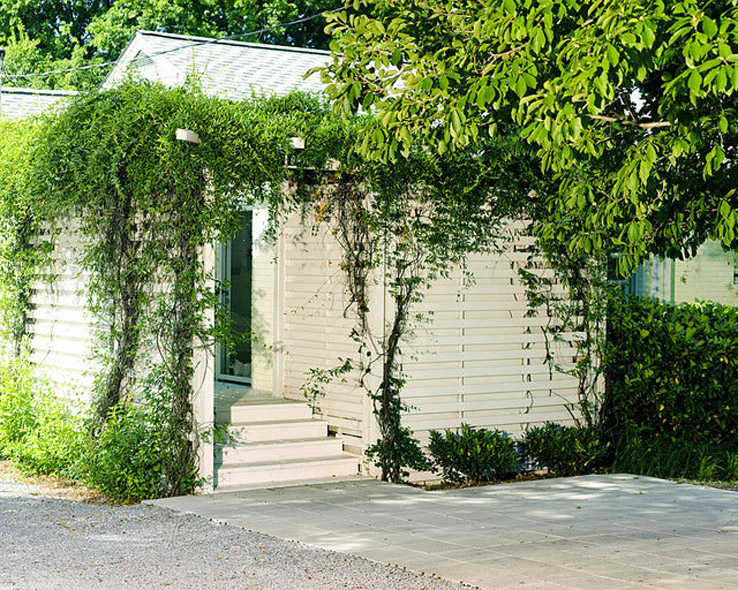 5007 Wyoming Ave. | Nashville | 37209
Architecture: Building Ideas, LLC
Interior Design: Marcelle Guilbeau
Built 1956, House: 1,100 square feet, Studio: 560 square feet
Our Style: David's is totally modern. Both of us are naturally Zen. My taste runs a little more whimsical and romantic.
Inspiration: We often say our house is a "beach house but without the beach." David spent 14 years out in La Jolla, California, where he developed this breezy mod house style. Marcelle fell in love with it, and brought in a little softness. Her inspirations come from her time spent in Italy, the Caribbean, Santa Fe, and just — nature itself.
Favorite Element: The house and studio breathe in the outdoors through their views, partial walls and indoor glass partitions that let the light and views through. The indoor and outdoor glass partitions reflect bits of sky, tree branches and leaves, and seasonal flowers. We have a magnificent 50 year old Dogwood tree right in the middle of a pristine patch of green grass, and it is the back yard jewel. It can be viewed from the dining table, the back patio, 2 outdoor decks wrapping the studio, and from within anywhere inside the studio.
Biggest Challenge: We have a sewer line that's just about 18 feet out from the back of the house. So when we add on, we'll need to graft on a 2 story addition to our 1 story beloved house. Because we love the original house just as it is, it is a tough "form" design problem. We haven't solved it yet! And until then, we have to keep the existing back windows and doors "unobstructed" (as we renovate to maximize space) so we don't lose any potential, when and if we ever add on…
What Friends Say: "Wow!" "I never would have guessed from the outside it would be this tall!" "I feel so relaxed when I am here." "I can almost hear the rushing surf in your yard."
Photography by: Brannon and Ashley Segroves